About us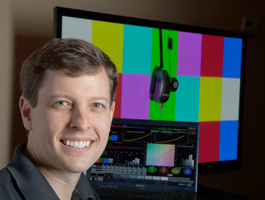 Founded in 2003, Cinetune is a technical service company helping clients in the greater Atlanta area achieve superior performance from their HDTV and home theater equipment. With engineering standards for professional systems as our guide, we identify and address distortions that stand between you and the optimal, intended experience of your entertainment media.
Call 770-330-9389 to schedule an appointment.
Cinetune uses SpectraCal's CalMAN Professional software. Read Charles' review of CalMAN for Residential Systems magazine (bottom of page).

Certifications
Cinetune technicians are calibration experts, certified in ISF calibration and THX video calibration and for the use of Sencore calibration equipment.
HAA:

Satisfied Clients
Shout-out from a listener on the HT Guys podcast: "I could see and hear the difference for sure. … The guy knows what he's doing. I was impressed by his knowledge and skill set. He even followed up with more suggestions to further improve my experience. … I highly recommend Charles at Cinetune. His prices are very reasonable." (To hear the whole e-mail, click the link above, scroll down to "Listen to the show," hit the Play button, and jump to around 7:25.)
"Just wanted to take a minute and thank you again for the thorough job you did in calibrating my TV! Watched a familiar reference movie last night and was happy as a clam! Between the TV's abilitities and your optimization of its potential, the movie presentation moved to a whole new level. … This will probably lead to me re-watching a whole bunch of movies just to see what I was missing on the first round!"
"Everyone LOVED the picture and sound last night. Nothing beats Taco Mac wings, cold beer and football!!!
The Giants' uniforms were the exact shade of blue that they should be, the faces of the players were on the money, and the picture was real sharp!
Thanks for an awesome job!!!"
"I can't tell you how much of a difference a few hours, great software, and a very knowledgeable ISF technician can make!
Between watching multiple football games and movies, the actual picture is stunning and the sound is not even a comparison to before. I am now not only seeing HDTV the way it is meant to be, but I am also hearing noises that most people don't even know exist!
I have literally had friends and family over who are blown away by the set up, especially those who have watched and heard what it was like prior to the calibration. I am already looking forward to my next TV purchase, and I cannot thank you enough!" — Cosby, Columbus, GA
Certified in ISF calibration and THX video calibration. Call 770-330-9389 to schedule an appointment.